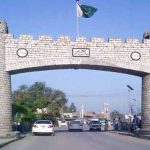 ISLAMABAD: Third phase to repatriate Temporary Displaced People (TDPs) of North Waziristan Agency (NWA) from Afghanistan has been started.
FATA Disaster Management Authority (FDMA) has said that all arrangements were made to bring back IDPs through Ghulam Khan area into Pakistan.
FDMA added that they were making efforts to repatriate all IDPs in third phase.
The Official said eight families were returned to Pakistan on Wednesday adding that only five families had reached in North Waziristan from Khost through Ghulam Khan crossing point.
He said that arrangements were made for return of fifty to sixty families on daily basis.
The Official said that it was final phase of repatriation and IDPs of North Waziristan should reach to Gulan Khan Camp, Khost.
All benefits of IDPs will be given to those, who will arrive Pakistan through Ghulam Khan.
The Officials admitted that IDPs had showed concerns about their vehicles in Afghanistan but only IDPs would be sent back home on priority basis while matter of vehicles would be resolved latter on.