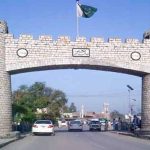 RAWALPINDI: The detained police personnel Assistant Sub Inspector (ASI) Ashraf, constable Zameer and Umair accused of killing two brothers in Rawalpindi have recorded their statements here on Monday.
As per details, officers told the investigation team they had signaled the two boys to stop at check post, but they failed to stop upon which, officials opened fire at the two, killing them.
Police have also recovered the arms used in firing whereas the officers would be presented before the court today for remand.
On the other hand, victims' family members have alleged that some people are forcing them to take back the case.
Earlier, police on late Saturday night killed two youngsters for not stopping at a police check point at College Road in Satellite Town area of Rawalpindi. Both individuals Shakeel and Zeeshan have been identified as brothers.
Family of the two youngsters protested against the police brutality in Holy Family hospital. Two officers have been arrested in relation to the incident. Chief Minister Punjab Shahbaz Sharif took notice of the incident and has demanded a report of the incident from City Police Officer (CPO) Rawalpindi.
According to the details, police signaled the youngsters on a motorcycle to stop at the checkpoint. The officers fired at the individuals when they did not stop the vehicle. 24 year old Shakeel died on the spot while 20 year old Zeeshan was shifted to the Holy family hospital in severely critical condition where he succumbed to his injuries.
The brothers have been described as residents of Sadiqabad. Police arrested the 2 officers who fled the scene. The Regional Police Officer (RPO) has ordered a case to be registered against both police officials.
The family has stated that they will also protest in front of the parliament house on Sunday.