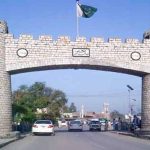 PESHAWAR: The terrorist that was arrested in Hayatabad operation has on Monday admitted that Khyber Pakhtunkhwa (KP) Minister for Tourism Atif Khan and KP Minister for Local Government Shahram Khan Tarakai were their targets.
The statement of the militant was recorded in Peshawar's local court in which he confessed to planning a suicide bomb attack at the Insaf Students Federation (ISF) rally.
The suspect revealed that a bike-borne suicide bomber had been prepared for the assault. He also confessed to conducting murderous attack on Justice Muhammad Ayub and his driver.
It is worth mentioning here that five terrorists were earlier killed in the operation at a house in Hayatabad – a suburb of Peshawar – and one assistant sub-inspector of police namely Qamar Alam embraced martyrdom.
The operation had been conducted against the militants in Sector 10 of Hayatabad's Phase 7.