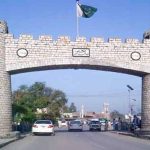 LAHORE: President Arif Alvi has said that the government would be playing with fire, if it resorts to arrest PTI chairman Imran Khan, adding that minus Imran Khan formula will not work.
Talking media persons at Governor House here on Thursday, said that the public would strongly react to any attempt to minus Imran Khan from politics. He said that he tried to mediate between the government and opposition, but there was no positive response from the PDM.
The president said that arresting the former primer minister or any senior politician would lead to "resistance", hinting at instability if the government tries to detain its opponents.
He said that the PTI chairman has concerns about PDM intentions regarding elections, adding that the government and opposition should sit together to discuss the elections. He said that Imran Khan was not against talks.
The president also deplored the manner in which Fawad was presented in the Islamabad court and asked the officials to "have some shame" as they covered his head with a white sheet and also handcuffed him.
"Institutions shouldn't need police to maintain their respect. If someone has an issue with me, then I will improve my performance instead of asking the police to take action," he said.