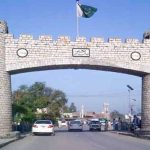 ISLAMABAD: Arshad Khan, aka Chaiwala, said in an interview that reports about him quitting the showbiz on pressure of relatives are not true. He said that he wants to work so he can help the poor and make his country proud.
The overnight internet sensation clarified in a statement that few of his relatives were not happy after he featured in a music video with Muskan Jay, however, he never said that he had quit showbiz.
Arshad Khan said that he was feeling sick lately and people didn t spread news based on truth.He asked for his fan s support all across Pakistan while confirming the news of working in his debut movie Kabeer alongside Nauman Javed.
Arshad Khan had earlier entered the 50 sexiest Asian Men of 2016 list. He had also made his runway debut at the Bridal Couture Week (BCW) 2016.
Meanwhile, it was recently reported before that he has suddenly dropped his plans of working in the glamour world as his family and close relatives expressed displeasure over his appearance with Muskan Jay in song Teri Bayparwaee.