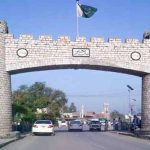 LAHORE: Stage artists on Thursday night have staged protest against the suspicious murder of actress Kismat Baig in Lahore.
The performers held protest march from Services Hospital to Punjab Assembly, demanding to ensure justice by capturing suspects as early as possible.
They alleged that police officers were only wasting time with ineffective investigation.
However, the protest was called off on security personnel's assurance.
Kismat Baig was shot 12 times by unidentified gunmen in Lahore on Thursday morning after which she was immediately shifted to Services Hospital where she succumbed to injuries.
The actress was travelling with her driver and assistant who also sustained severe wounds.
Moreover, Kismat Baig's funeral prayer would be offered today.