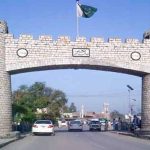 PESHAWAR: Central president of Awami National Party (ANP) Asfandyar Wali Khan has supported the prime minister's announcement about citizenship to Afghan refugees, saying that three generations refugees have grown up in Pakistan.
Addressing press conference here on Mondy, he said that giving citizenship to Afghan refugees would not affect interests of others, adding that citizenship was a human rights issue. He said that the third generation of the Afghan refugees should be given Pakistani citizenship.
He said that he was also Pakistani Afghan. He said that Afghans should given citizenship under international law. He said that peace without peaceful Afghanistan was impossible. He said that Pakistan's progress without Afghanistan's development was not possible. He called for giving trade corridor to Afghanistan.
The ANP chief said that he would continue opposition to Kalabagh dam, adding that he was not afraid of being declared as traitor on this issue. He said that the ANP was part of the opposition and would remain part of the opposition. He said that he did not discuss any political issue with Nawaz Sharif during condolence meeting.
He strongly condemned the Indian army chief statement against Pakistan and said that if India attacks Pakistan, they would fight for the motherland. He said that the political issue could not be solved through use of gun. He said that Pakistan has good relations only with China.