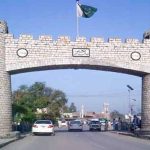 PESHAWAR: The Central President of Awami National Party Asfandyar Wali Khan says durable peace in Pakistan and Afghanistan is in the interest of the entire region.
Addressing a function in connection with the death anniversary of founder of Khudai Khidmatgar Movement, Bacha Khan in Peshawar on Saturday, he said Pakistan has suffered a lot in the war against terror and it has greatly damaged our economy.
Asfandyar Wali Khan called upon the government to expedite reforms process in tribal districts.