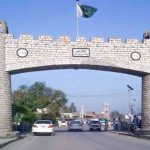 DHAKA: Pakistan rode on a hat-trick by Ajaz Ahmad to demolish South Korea 6-3 and clinch the bronze medal at the Asia Cup 2017 hockey tournament here on Sunday.
Ahmad scored in the 10th, 30th and 36th minutes while Rashid Mehmood (26th) and Abu Mahmood (32th) also sounded the board for Pakistan.
Suk Hoon Cho (20th), Namyong Lee (43th) and Inwoo Seo (55th) scored for South Korea.
The Koreans, unlike their previous Super 4s matches, were not at their usual defensive best and Pakistan took complete advantage of that as they attacked from hooter to hooter, showcasing exemplary skill to make space in the Korean circle.
It was Ahmad who was the hero of Pakistan's victory as he pumped in three splendid goals. Each of his goals was a sheer thrill to watch.
The first one came as early as the 10th minute while the second and third showed his ability to skillfully dribble past Korean defenders.
A long pass from skipper Muhammad Irfan to Ajaz in the 25-yard mark saw him swiftly make his way into the circle, not being hassled about the two Korean defenders attempting to tackle him. He gave no room for error as he fiercely pushed one past goalkeeper Doopyo Hong to help Pakistan take a 3-1 lead.
Only four minutes earlier, Rashid Mehmood had scored a field goal to give Pakistan a 2-1 lead.
Ajaz's third goal came in the 36th minute when he single-handedly maneuvered covering the 25-yard and drove into the striking circle with impeccable control of the ball, stepped away from his man Mookyoung Lee to push one into the post.
Though South Korea scored two goals via Suk Hoon Cho and Namyong Lee, it did little to dent Pakistan's hopes of a win.
The Koreans missed out on two back-to-back penalty corners in the final quarter but finally converted one with an improvised set piece that saw Inwoo Seo in the 55th minute to narrow the lead to 3-5.
But Muhammad Yaqoob scored in the 56th minute to ensure a convincing 6-3 win for Pakistan.
China have qualified for the Hockey World Cup for the first time, thanks to favourable results at the ongoing Asia Cup in Dhaka, the International Hockey Federation (FIH) said on Sunday.