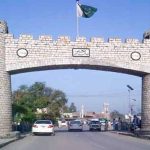 ISLAMABAD: The Asian Development Bank has joined the international community to support flood-hit Pakistan and help the country in rebuilding its infrastructure.
"The scale and impact of the floods are shocking," Yevgeniy Zhukov, the ADB director general for Central and West Asia, said in a statement which was shared on Twitter.
Floods triggered by heavy rains have affected more than 33 million people and killed more than 1,500 people. Pakistan has urged international donors to assist it amid the devastating situation as the country was "bearing the brunt" of the developed countries who were contributing to the carbon emissions.
Prime Minister Shehbaz Sharif, who is in New York to attend the United Nations General Assembly, would outline proposals for collectively tackling the existential threat posed by climate change at the event.
The premier had also called for an "action plan" in his address to the Shanghai Cooperation Organization to tackle the effects of climate change. "This climatic injustice has befallen us despite the fact that our carbon emission is less than one per cent."
The ADB said that it would provide more details of the new assistance package when it was finalised.
"We will work closely with the government and other international agencies to help rebuild the lives & livelihoods of the people affected by the disaster," it said, "We stand with the people of Pakistan."
Earlier this month, UN Secretary General Antonio Guterres visited flood ravaged areas of Pakistan to review the situation. "Pakistan needs massive financial support," he said multiple times.
Guterres had added that the UN would strongly advocate for "debt swaps" with IMF and World Bank through which developing countries like Pakistan instead of paying a debt to foreign creditors would be able to use that money to invest in climate resilience, investments in sustainable infrastructure, and green transition of their economies.