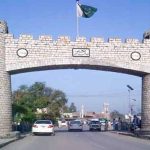 BEIJING: Chinese Foreign Minister Spokesperson said on Wednesday, foreign ministers of the SCO meeting will be held in Beijing on April 24. Pakistan foreign minister Khawaja Muhammad Asif and Indian foreign minister Sushma Swaraj will attend the meeting.
Spokesperson Hua Chunying's said Chinese foreign minister Wang Yi will chair the meeting. The foreign ministers of Russia, Kazakhstan, Kyrgyzstan, Tajikistan, Uzbekistan, Pakistan and India as well as the secretary-general of the SCO Rashid Alimov and director of the Executive Committee of SCO Regional Counter Terrorism Structure will also participate in the meeting.
"All parties will exchange views on SCO cooperation and major regional and international issues" she added.
Besides foreign ministers of Russia, India, Kazakhstan, Kyrgyzstan and Pakistan will also make the visit to China.
She further said that foreign ministers meeting will be the first one after the enlargement of SCO which is meant to lay a groundwork for the SCO Qingdao Summit in June. During the meeting, the Chinese leadership will have a group meeting with the heads of the delegations.
She remarked that the foreign ministers will exchange views on all-round cooperation and important international and regional issues. He will witness the signing of the outcome documents and issue a press release based on the consensus of the meeting.
"We believe that all sides will pick the opportunity of the meeting to build on consensus, reach more cooperation measures into the success of Qingdao summit and move forward the SCO," she said.
Hua also believes that Summit will achieve fruitful results and promote greater development of the Shanghai Cooperation Organization.
The upcoming SCO summit will be held in June this year in Qingdao Shandong province of China. President of Pakistan Mamoon Hussain is expected to attend this summit while defense minister of SCO members meeting is also scheduled to be held this month and Engr Khurram Dastgir Khan will lead the Pakistani delegation.
Chiefs of Defence Staff meeting and a working-level meeting on Drug Control of the SCO-member states will also be held this year.