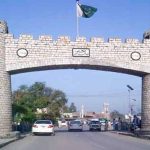 ISLAMABAD: Foreign Minister Khawaja Asif has on Monday challenged the formation of a larger bench of the Islamabad High Court (IHC) to hear his disqualification case for possessing an Iqama.
On September 23, the minister challenged the formation of a larger bench claiming that his right of appeal had been affected by the formation of a larger bench.
Asif further said in his reply that the petitioner has gone through all legal remedies to get him (Asif) disqualified from Parliament.
A larger bench of IHC headed by Justice Aamer Farooq resumed hearing of the case and had sought a written reply from the foreign minister today.
The disqualification petition was filed by Pakistan Tehreek-e-Insaf (PTI) leader Usman Dar, who was fielded by his party during the general elections of 2013 in NA-110, the same constituency from where Asif was elected to the National Assembly.
As per the petitioner, Asif is not entitled to hold the office of MNA nor of the federal minister under the Unlimited Term Employment Contract between him and International Mechanical and Electrical Co (IMECO), a company located in Abu Dhabi.