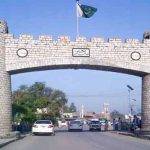 PESHAWAR: Pakistan Tehreek-e-Insaf chief Imran Khan has said on Friday that former president Asif Ali Zardari who has been addressing the people of Khyber Pakhtunkhwa these days is the biggest disease Pakistan has.
He addressed a rally of PTI enthusiasts in Peshawar and said in his speech that he was going to address the people of Sindh whilst Zardari addressed the people of Khyber Pakhtunkhwa province.
He said that Zardari criticising corruption in the country is one of the indicators of doomsday approaching us. He reiterated that around USD 10 million are laundered out of Pakistan every year which pushes the state further into debts.
Khan said that a country deep in debt is not respected in the world.
He accused Pakistan Muslim League-Nawaz of maligning Supreme Court of Pakistan. Khan said that all the money which has been laundered out of Pakistan would be brought back to Pakistan if Nawaz Sharif is sentenced in the corruption references.
PTI chief said that Nawaz Sharif was disqualified for pocketing the money that belonged to the people of Pakistan.
Earlier in the day, Imran slammed the federally ruling party following clash of protesting lawyers with the law enforcers at an accountability court during hearing of one of the cases against daughter and son-in-law of the disqualified premier.
He accused the ousted first family of Pakistan to have stashed Rs 30b in foreign accounts. "Today the PMLN attacked Pak s judiciary for the second time – today it was to protect the over Rs 30 b Sharifs loot stashed abroad," Khan wrote in a message posted on Twitter.
He declared clash among institutions of the state a pathway to the disintegration of Pakistan.