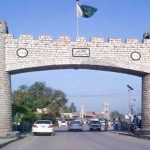 KARACHI: Pakistan people's Party (PPP) leader Manzoor Hussain Wasan Monday said that former President Asif Ali Zardari has decided to return to Pakistan in December this year.
Manzoor Wassan said that Asif Zardari has himself informed about his return during a telephonic conversation.
The former president Zardari will return in December this year to attend the death anniversary of the former Prime Minister Benazir Bhutto.
Zardari, who held the office of the head of state of Pakistan until September 2013, has been in self-imposed exile for more than one year.
Former President Zardari had left the country last year after a diatribe against the security forces of the country. Wassan said that PPP Chairman Bilawal Bhutto Zardari would also visit different parts of the country after Eid-ul-Azha, Manzoor Wassan said.
Manzoor Wassan said that PPP would once again emerge as the biggest political party of Pakistan. He further said that PPP would play an important role in overall political situation of the country in upcoming days.