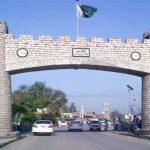 PESHAWAR: Former president of Pakistan and co-chairman Pakistan Peoples Party (PPP) Asif Ali Zardari on Tuesday vowed that his party will merge the Federally Administered Tribal Areas (Fata) with Khyber Pakhtunkhwa at every cost.
While addressing workers convention in Peshawar, Zardari said that PPP has always talked of employment opportunities for masses.
Zardari also taunted former Prime Minister Nawaz Sharif and PTI Chairman Imran Khan. He asked the nation to be aware of people like Imran Khan and Nawaz Sharif. He asked Nawaz Sharif that if he did not knew his sin for which he was ousted them why he left the premiership. He alleged that Nawaz Sharif would have sold Pakistan if he had the authority.