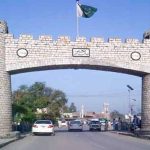 MARDAN: A jirga in Mardan has given an ultimatum of 72 hours to the provincial government to arrest the culprits behind the brutal rape and murder of four-year old girl Asma.
The jirga warned the government that they would hit the streets if the culprits were not nabbed within 72 hours.
Following the ultimatum, the district government of Mardan has summoned All Party Conference (APC) tomorrow (Friday).
Earlier, police personnel arrested as many as 20 suspects in the case.
The girl's body was found three days ago after which her medical test was conducted that confirmed rape.
Meanwhile, Pakistan People's Party (PPP) Chairman Bilawal Bhutto Zardari has condemned the mishap in strong words and declared it as horrible crime.
He demanded the authorities to provide justice to the bereaved family.