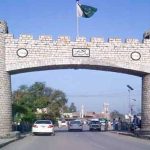 ISLAMABAD: The Supreme Court (SC) on Monday withdrew its suo motu notice it took in the Asma Rani murder case after it was informed that a challan has been submitted in trial court.
During today's hearing, Khyber-Pakhtunkhwa advocate-general said the accused, Mujahid Afridi, has been arrested and a challan has been submitted in the trial court.
Upon this, the court remarked that the law would make its own course now adding that since the challan has been submitted, we take back the suo motu notice.
Asma Rani, a third-year medical student, was shot three times in Kohat in January over refusing a marriage proposal. She sustained injuries and was taken to a nearby hospital in Kohat. However, she succumbed to her injuries but identified Mujahid as the assailant before her death.
After committing the crime, Mujahid left the country and fled to Dubai wherefrom he was arrested with the help of Interpol and was brought back to Pakistan.