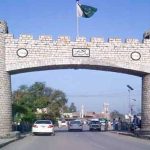 PESHAWAR: A district and sessions court in Peshawar on Friday sentenced the prime accused in the medical student Asma Rani murder case, Mujahid Afridi, to death. The court acquitted two other accused Siddiqullah and Shahzeb who were accused of facilitating the murder.
Asma Rani, a third-year medical student, was shot dead in Kohat in January 2018 for refusing a marriage proposal of Mujahid Afridi. She was taken to a nearby hospital after being shot thrice. In a video statement, the medical student had identified Mujahid Afridi as the assailant before succumbing to her wounds. The clip had sent shock waves after being gone viral on social media.
On Friday, a district and sessions judge conducted the hearing in the Peshawar Central Jail where the deceased girl's parents and brother was present.
Ghulam Dastgeer, father of Asma Rani, said he is satisfied with the court decision, but facilitators of the main accused have escaped punishment. He said his children can no longer go to educational institutions without fear as the family of the convict is influential and may inflict more harm. He said his family needs security in this situation. He said his daughter wanted to become a heart specialist, but her dream was shattered as a cruel person killed her to satisfy his ego.