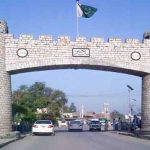 QUETTA: A magnitude 5.9 earthquake struck parts of Balochistan early on Thursday morning, killing at least 22 people and injuring more than 300. According to the Provincial Disaster Management Authority (PDMA), most of the deaths and injuries were reported from the remote north-eastern district of Harnai.
The National Seismic Monitoring Centre in Islamabad reported that the epicentre of the earthquake was near Harnai at a depth of around 15 kilometres. The PDMA added that rescue teams including Frontier Corps (FC) personnel were taking part in the rescue operation and had been dispatched from Quetta, Pishin and Ziarat to Harnai. A shortage of ambulances and medicines has been reported.
Prime Minister Imran Khan also expressed deep sorrow and regret over the loss of precious lives and property due to the earthquake. The Prime Minister's Office received a preliminary report on the damage caused by the quake and was been updated on the situation. The premier directed all concerned federal agencies to assist the Government of Balochistan in providing relief.
"The federal government will provide all possible assistance in this difficult time," PM Imran maintained.
Balochistan Chief Minister Jam Kamal, in a tweet, assured that all assistance will be provided to the stricken district of Harnai, adding that medical, local administration and disaster management teams had been mobilised. The minister also wrote that people were being evacuated with major support from the army's XII corps and FC.
The Inter-Services Public Relations (ISPR) also stated that troops had reached Harnai for rescue and relief efforts, with necessary food and shelter items being dispatched for the affected people of the district.
The military's media wing added that army doctors and paramedics, along with necessary medicines and equipment, are also assisting the civil administration. At least nine critically injured were evacuated to Quetta through Army Aviation helicopters.
It further said that the IG FC Balochistan (North) has also reached Harnai for damage assessment and response, with urban search and rescue teams dispatched from Rawalpindi to further aid rescue efforts.
The provincial chief minister also tweeted the PDMA Balochistan helpline number for locals to call for assistance.