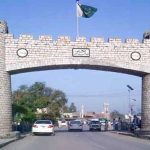 KARACHI: An anti-terrorism court (ATC-II) on Monday announced its decision to approve the bail plea of Muttahida Qaumi Movement (MQM) leader Amir Khan, who was under custody on judicial remand.
According to sources bail was granted to the MQM leader until the next hearing of the case which has been scheduled for July 15.
Further the ATC-2 directed Amir to pay Rs1 million in surety bonds, adding that he cannot leave the country without permission.
The court also directed the MQM leader to cooperate with the police in the investigation and also restricted him from travelling abroad. The interior ministry has been informed about the court's decision in black and white.
"MQM workers will continue to fight for Pakistan and its workers are true patriots," said Amir Khan while speaking to the media men outside the ATC. "Conspiracies have been made against the MQM ever since the party created," he said, "But the workers are united under the leadership of Altaf Hussain".