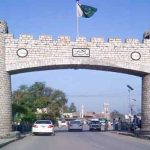 LAHORE: An anti-terrorism court (ATC) Saturday acquitted 12 accused in Kasur video scandal due to lack of evidence.
According to reports, the judge of the ant-terrorism court, Chaudhry Ilyas, acquitted 12 accused in Kasur child abuse video scandal due to lack of evidence.
On February 13, an Anti-Terrorism Court (ATC) had sentenced three accused to life imprisonmenht for their involvement in the horrific Kasur child sexual abuse scandal .
The gang which operated between 2006 and 2014, victimised hundreds of children in Kasur by forcing them to perform sexual acts on camera and later blackmailing the families.
In August 2015 a local reporter broke the news about the gang's activities about the gang of almost two dozen men who had abused as many 280 children from the Hussainwala village and filmed 400 videos.
A Joint Investigation Team (JIT) constituted to probe the video scandal confirmed 20 victims of child sexual abuse at the time. However, the Human Rights Commission of Paksitan (HRCP) in a report stated that a much larger number of children were victims of the crime.