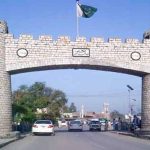 LAHORE: An Anti-Terrorist Court (ATC) is all set to announce its verdict today in the rape and murder of seven-year-old Zainab in Kaur city.
The ATC judge Sajjad Ahmad had reserved the verdict in the case during previous hearing when defense and prosecution concluded their arguments.
The primary suspect, Imran Ali, confessed rape and murder of seven-year-old Zainab before the ATC Judge and said that he deserved no mercy.
The high-profile trial is being held at Kot Lakhpat Jail, where Imran Ali has been kept, for security reasons.
It is pertinent to mention here that Zainab, who had gone missing from a street near her house, was assaulted and her body was thrown in a garbage heap in Kasur last month.