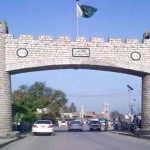 LAHORE: Anti-Terrorism Court (ATC) in Lahore has reserved verdict in seven-year-old Zainab rape and murder case that will be announced on February 17.
During the hearing headed by Justice Sajjad Ahmed at Kot Lakhpat Jail, four-member prosecution team completed its arguments after which, the decision was reserved. Prosecutor Abdul Rauf said that he is seeking the death penalty. The days-long trial was held at a jail for security reasons.
Earlier, defence lawyer of suspect Imran Ali, Mehar Shakeel Multani had excused himself from representation saying that his conscience doesn't permit him to represent a criminal, who has also confessed to the charge.
He revealed that Imran is involved in the murders of Zainab and other eight innocent girls and demanded to take stern action against him.
As per Supreme Court (SC) directives, Prosecutor General Ahtesham Qadar was also present on the occasion.
It is to be mentioned here that Zainab was assaulted and her body thrown in a garbage dump in the city of Kasur early this month.
The guardians complained upon return that late Zainab had gone missing at least five days ago and the police did not cooperate with the relatives, who were looking for the missing minor.
Zainab had marks of torture on nose, neck, and other parts of the body – according to the autopsy. The samples collected from her clothes and body were sent to forensic laboratory.
Two people were killed in Kasur the day after Zainab's body was recovered when police fired at hundreds of angry protesters, who said negligence on the part of the authorities was behind the repeated killings.