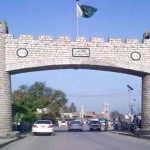 LAHORE: An Anti-Terrorism Court (ATC) on Monday formally charged Imran Ali with raping and murdering seven-year-old Zainab Ansari in Kasur.
Police produced the prime accused Imran Ali before a judicial bench of the ATC in Kot Lakhpat Jail where he was indicted.
The trial of Imran Ali is being held on daily basis as the Lahore High Court (LHC) has ordered to wrap up the case within seven days of the suspects' indictment.
The seven-year old Zainab went missing on Kasur city and later, her dead body was found in a garbage dump.
She was raped and strangled to death.
Imran was arrested after his DNA matched with the samples taken from the body of Zainab.