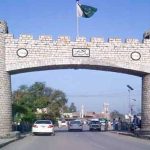 ABOTTABAD: An anti-terrorist court on Tuesday indicted 57 suspects in Mashal Khan murder case, rejecting bail pleas of 17 suspects.
Khan, a student of journalism in Abdul Wali Khan University was lynched on April 13 this year.
ATC judge Fazal Subhan rejected the bail pleas after hearing arguments from defendants and the prosecution and indicted 57 others who are imprisoned at Haripur Jail.
A large number of people from Mardan including Mashal Khan's father Iqbal Khan were present in the court.
The judge ordered the transfer of case to Central Jail Haripur where hearing would begin on daily basis.
Iqbal Khan had prayed the court to transfer the case to Abbottabad after receiving threats.
The Peshawar High Court had ordered to transfer the case to Abbottabad on July 27.