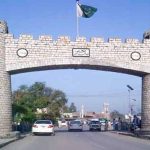 KARACHI: Anti-Terrorism Court (ATC) on Tuesday has indicted leader of Lyari gang war Uzair Baloch for kidnapping and murdering businessman Abdul Samad in Karachi.
During the hearing, the court asked Baloch to confess his crime of killing Abdul Samad despite taking Rs70,000 ransom however, the suspect denied the allegation.
The court has issued notices to investigation officer and witnesses for testimonies in next hearing.
Strict security arrangements were also taken on the occasion to avoid any untoward incident.
Earlier, Joint Investigation Report (JIT) of Lyari Crime Lord Uzair Baloch unveiled by Sindh govenrment revealed that the accused had involved in the killing of 198 people and several heinous crimes.
The report said that the gangster joined the Rehman Dacoit gang to take revenge for his father's killing by Arshad Pappu. The Lyari gangster also confessed to killing Arshad Papu
The JIT report revealed that seven-station house officers (SHOs) had been appointed in police stations on the basis of Baloch's political influences in order to establish an organized network of criminals in Lyari.
The JIT report also revealed the purchase of various weapons between 2008 and 2013, as well as his implication in the targeted killing of several people.
The JIT investigators exposed the ownership of illegal assets of Uzair Baloch in Pakistan and Dubai. More than 20 accomplices of Uzair Baloch are listed in the JIT report.