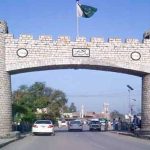 ISLAMABAD: Anti-Terrorism Court (ATC) on Tuesday has issued non-bailable arrest warrant of Khyber Pakhtunkhwa Minister for Information Shaukat Yousafzai in Pakistan Television Corporation and Parliament attack case.
According to details, the warrant was issued over information minister's consistent absence in the case hearings.
The court has also directed to arrest Shaukat Yousafzai and present him before court on March 28.
On Aug 31, 2014, anti-government protesters from PTI and PAT clashed with police while marching towards the Parliament and Prime Minister House.
The clash resulted in the deaths of three participants of the sit-ins. Hundreds, including demonstrators and police officials were also wounded.
The transmission of PTV News and PTV World was cut off for almost half an hour before the Pakistan Army cleared the building.