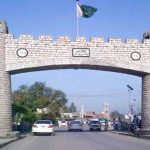 ISLAMABAD: An anti-terrorism court (ATC) on Monday laid aside Faizabad sit-in cases against Khadim Rizvi and others on the request of prosecution.
The cases included their involvement in several incidents of violence, including an attack on a police check post, during the sit-in.
ATC Judge Shahrukh Arjumand halted the proceedings on the request of prosecution saying that the police were investigating the cases.
The prosecution then prayed to the court to halt the proceedings till a new charge sheet is submitted by the police.
The court approved the request and postponed the case indefinitely.