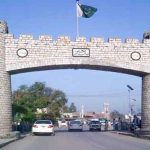 ISLAMABAD: An anti-terrorism court on Monday ordered Islamabad police to arrest Tehreek-i-Labbaik Ya Rasool Allah leaders Khadim Hussain Rizvi and Pir Afzal Qadri in Faizabad sit-in case.
During proceedings of the case, the ATC directed that Rizvi and Qadri be arrested and presented in court on April 4.
On March 5, the ATC had declared Rizvi, Qadri, Maulana Inayat and Shekih Izhar as absconders in the case for failing to appear before the court after repeated summons.
The ATC also stated that if the accused were not produced in court within the next 30 days, they would be declared proclaimed offenders.
Workers of the religious party had protested against the government at Faizabad Interchange of Islamabad for around three weeks in November last year, bringing the capital to a standstill.
The religious party had protested against an amendment in the Elections Act, 2017, which was later reversed by the government, and ended its protest after an agreement was reached with the government, which included the resignation of Law Minister Zahid Hamid.