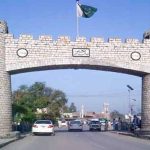 KARACHI: An anti-terrorism court (ATC) on Monday ordered to put names of Muttahida Qaumi Movement (MQM) leaders Farooq Sattar, Amir Liaquat and Khalid Maqbool on Exit Control List (ECL) in cases of hate speeches delivered by MQM chief Altaf Hussain and attacking the media houses.
The court had declared the accused proclaimed offenders during last year. It also ordered the police to detain them and present them before the court within 15 days.
After an anti-Pakistan speech by Altaf Hussain in August last year, the MQM faced a severe crackdown in which many senior party leaders were arrested. Hussain has called Pakistan a "cancer for the entire world" and the "epicentre of terrorism".
The party's headquarters Nine Zero was also closed after the supporters attacked media houses leaving on dead and eight injured, the local media reported.
It may be mentioned here that MQM-London leader is also wanted in Pakistan in different cases that include charges of terrorism and incitement to violence, among other offences.
The FIA had asked the Ministry of Interior to issue red warrants for the MQM chief which granted permission to write a letter to the Interpol seeking red warrant of Hussain.
On Friday, International Criminal Police Organization (Interpol) refused to issue a red warrant for Altaf Hussain.