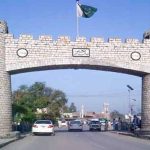 ABBOTTABAD: An Anti Terrorist Court (ATC) here Tuesday rejected the bail application of 17 accused in Mashal Khan murder case and decided to shift the trial for strict security measures at Central Jail Haripur (CJH) where the hearings will take place.
Justice Fazal Subhan of ATC Abbottabad after hearing the arguments of both sides, rejected the bail of all 17 accused.
The judge ordered to shift the case to CJH, where the hearings will now take place.
On this occasion, Mashal's father, Iqbal Khan and a large number of people from Mardan were also present.
Mashal Khan, a journalism student at Abdul Wali Khan University in Mardan was brutally killed by a violent mob on April 13 which had accused him of blasphemy.
Police registered cases under sections 148-422-302-324-143 against the arrested accused in Mahsal Khan case including Sajid Ali, Wajid Malang, Asif Ali, Waleed Ayub, Syed Wajid Ali, Mujeeb Ullah, Sajjad Ali, Urfanullah, Nasrullah, Syed Abbas, Aziz Khan, Atif Munsif, Fazeelat Jan, Muhammad Asif Khan, Sahibzada Muhammad Sohaib, Anas Ali, Zeeshan Khan and others.
Earlier, when the hearing of Mashal Khan case was started in Mardan. The petitioner Iqbal Khan and provincial government had requested the court to move the case from Mardan for fear of law and order situation.
At that time Iqbal Khan also disclosed that families of accused were pressurising him and he was feared about a fair trial.
On July 27, two members of Peshawar High Court (PHC) bench ordered to move the case to ATC Abbottabad and shifted the accused to Haripur Central Jail.