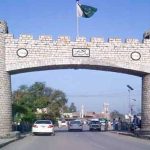 ISLAMABAD: An Anti-Terrorism Court (ATC) on Monday dismissed a plea filed by Pakistan Tehreek-e-Insaf (PTI) chairman Imran Khan seeking removal of terrorism charges in four cases against him.
ATC Judge Shahrikh Arjumand heard the cases filed against Khan for attacking the state television building, the parliament and Senior Superintendent of Police (SSP) Asmatullah Junejo during Islamabad sit-ins back in 2014.
During the proceedings, Khan's counsel Babar Awan presented arguments against incorporation of terrorism charges while defending his client Imran Khan in the cases.
He contended that all the cases were filed merely on political differences as his client had been forefront in the anti-corruption campaign.
He urged the judge to remove the terrorism charges.
Khan was booked under terrorism charges back in 2014 allegedly for an assault on state television building, the parliament, and Senior Superintendent of Police (SSP) Asmatullah Junejo.
Earlier, the ATC approved the PTI chairman's bail for Rs 200,000 in each case after Imran Khan surrendered himself before the court last month.
The court had then also ordered Imran Khan to cooperate with the investigation officers and get his statement documented with police.
The anti-terrorism court then adjourned the hearing till December 11.
Pakistan Awami Tehreek (PAT) and PTI chiefs Dr. Tahirul Qadri and Imran Khan are accused of destroying property in the Red Zone of Islamabad, attacking the state TV channel's building and injuring SSP Junejo during the 2014 protests.
The two leaders held protests against alleged rigging in the General Elections 2013 and for action against the culprits of Model Town carnage in Lahore.