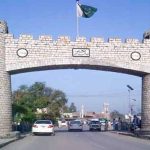 PESHAWAR: An anti-terrorism court (ATC) on Thursday has announced its verdict in the Mashal Khan lynching case and sentenced two suspects Asad Katling and Arif Khan Mardanwal to life in prison.
According to details, the court has also released remaining two suspects Sabir Mayar and Izharullah due to lack of evidence against them.
Mashal Khan, a mass communication student at Mardan's Abdul Wali Khan University, was lynched to death by a mob of angry students on April 13, 2017 over rumors that he and his friends committed blasphemy.
On February 8 last year, the anti-terrorism court (ATC) in Haripur had sentenced accused Imran to death and five others to 25 years in jail.
ATC Jugde Fazal Khan Subhan read out the verdicts against each of the 57 men accused in the case one-by-one. Tight security arrangements were in place due to the sensitivity of the case, with roads leading to the Haripur Central jail being closed. The court had also acquitted 26 people in the case.
After Mashal's murder, Supreme Court of Pakistan's chief justice took notice and ordered a judicial inquiry. For this purpose, a joint investigation team was formed to investigate what led to the gruesome murder.
The JIT report had revealed that the lynching Mashal who was falsely accused of blasphemy was organized by other students from his own secular political group who viewed him as a rival and faculty members who resented his criticism of the university.
The report also revealed that officials from the university administration were also involved in his murder. The report also stated that there were no solid proofs found about blasphemy committed by Mashal and his friends.
The brutality of the attack, recorded on a mobile phone camera, had shocked the public and led to widespread condemnation, including from prominent clerics.