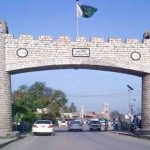 ISLAMABAD: The Anti-Terrorism Court (ATC) has on Wednesday summoned the Pakistan Tehreek-e-Insaf (PTI) Chairman Imran Khan in a case pertaining to SSP torture case.
According to media reports, Imran Khan during today's proceedings filed a request in the court for exemption from personal appearance in the SSP torture case.
However, ATC judge asked Imran Khan's lawyer to call his client and appear in the court as it is all set to announce its verdict in the case today.
PTI Chief's lawyer informed the court that his client would appear in the court.
The PTI Chief; however, failed to appear in the court after which, ATC Judge adjourned announcing its decision in the case.
The Judge also warned Imran Khan of arrest warrants if he failed to appear in the court during the next hearing.
The hearing was then adjourned until May 4.