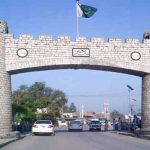 KARACHI: Anti-terrorism court (ATC) on Friday has dispatched a letter to the Sindh Home Department as Safoora carnage case lingers due to absence of government prosecution counsel.
The letter stats that the case is lingering with no progress and thus a public prosecutor should be appointed as soon as possible.
A formal proceeding of the case has not been initiated yet due to absence of the prosecutor.
It should be mentioned here that Muhammad Khan and Mubashar Mirza, the prosecutors appointed had given up the case in October due to insufficient dues and security issues.
The prosecution team had demanded Rs 30 lac each, residences in secure localities and security squads at their disposal. However, the department had issued notification of Rs 3 lac earlier and later on Rs 6 lac due to their reservations. The prosecutors did not agree with the amount and walked out of the case.
Earlier on November 9, the court had summoned a complete challan of Safoora carnage on November 22.
Investigation officer had presented the court a report in the matter which revealed that helpers of the assailants Sultan and Siddique are brothers.
Criminal Sajjad Naeem got licenses for weapons with help of Zahid Moti Wala. The report also stated that the weapons were handed over to Saad Aziz and other terrorists involved. Fahad Aziz had opened fire on the bus with the same weapons.
In May 2015, at least 46 individuals of Ismaili community were killed while as many as nine were injured after militants opened indiscriminate fire on a bus in Karachi.
Authorities said that key militant, Saad Aziz was working for banned outfit Islamic State (IS) for a year. Sindh Police Inspector General (IG) had said that a group of as many as 25 terrorists planned the attack.