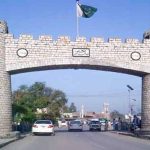 PESHAWAR: Pakistan Tehreek-e-Insaf leader Atif Khan has challenged the victory of Awami National Party's Amir Haider in NA-21 Mardan constituency.
After Khan, who is Khyber Pakhtunkhwa's sports minister, moved the high court, a notice was issued to Haider.
Further, the PTI leader also filed a defamation suit against ANP leader Himayatullah Mayar in a lower court in Islamabad.
In the petition, Khan has claimed that Mayar used inappropriate language in his political rallies.
The court has summoned Mayar on September 24.