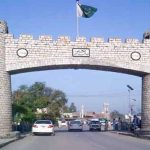 QUETTA: The overall atmosphere in Balochistan is gruesome after the deadly suicide blast in Mastung while the provincial government has announced three-day mourning.
According to details, the national flag at all the government buildings in the province would be hoisted at half mast as a token of mourning.
Meanwhile, the Balochistan High Court Bar Association and Quetta Bar Association have also announced to observe three-day mourning.
On Friday, at least 130 people including former Balochistan Chief Minister Nawab Aslam Raisani's brother Siraj Raisani embraced martyrdom in a suicide blast in Mastung.