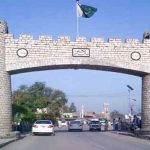 ISLAMABAD: Prime Minister Shahid Khaqan Abbasi has condemned the attack on Interior Minister Ahsan Iqbal and sought report from Punjab police chief.
Pakistan People's Party (PPP) Co-chairman Asif Ali Zardari has also condemned the incident while terming the attack as a serious matter.
Zardari said that actions must be taken to prevent such kinds of incident.
His son and PPP's Chairman Bilawal Bhutto Zardari while condemning the attack has prayed for the early recovery of Ahsan Iqbal.
He termed the incident an attack on the entire state and not only on the Interior Minister.
Chief Minister Balochistan, Speaker and Deputy Speaker of the National Assembly and Opposition leader in the House have also condemned the attack.
Pakistan Tehreek-e-Insaf (PTI) Chairman Imran Khan, in a tweet, has strongly condemned the incident.
He wrote, "Strongly condemn attack on Ahsan Iqbal today".
PTI spokesperson, Fawad Chaudry strongly condemned the incident and prayed for Ahsan Iqbal's health.
He said that the incident should be investigated and those responsible should be brought to the book.
Another PTI leader Usman Dar also condemned the attack on Interior Minister and said that lack of tolerance in the society was a serious issue.