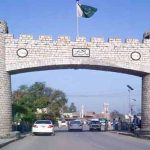 KARACHI: Muttahida Qaumi Movement (MQM) Farooq Sattar on Tuesday said that attack on Rashid Godil seems to be a conspiracy to sabotaging talks between the government and MQM.
"There is a positive progress to resolve the issue of resiguation of MQM members", said Farooq Sattar while addressing a joint news conference after talks with JUI-F Chief Maulana Fazlur Rehman at Nine Zero.
He said that Rehman reached Nine-Zero as a mediator between government and MQM. He said that JUI-F chief was talking to MQM chief Altaf Hussain via satellite link when they received sad news of terror attack on Rashid Godil.
He said that Maulana Fazllur Rehman asked them to play their role in the Parliament for the stability and promotion of the political and democratic process in the country.
He said MQM gives due weightage to his talk and expressed the hope that they will take the process of negotiation forward.
He said the attack on MNA Rashid Godil took place when the two sides were engage in a constructive process in finding solution of resignation issue.
Maulana Fazlur Rehman the next round of talks with MQM on the issue will be held in Islamabad. Referring to attack on Rashid Godil, he said cowardly effort has been made to sabotage the negotiation process.