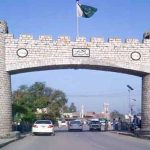 ISLAMABAD: The hearing of Panama Leaks case was resumed in the Supreme Court by a five-member larger bench headed by Justice Asif Saeed Khosa on Wednesday.
Presenting his arguments in the court, Attorney General Ashtar Ausaf said that he took a look at the records and concluded that Sharif family took loan on foreign currency accounts.
To this, Justice Azmat Saeed remarked the court had been told that investments were made with the Qatar Prince and no foreign currency account had been mentioned. He asked the Attorney General to assist in the case and not become a party.
The Attorney General continued that Hudaibiya Paper Mill case should be kept separate from the Panama Paper case but Justice Azmat Saeed asked as to why he was trying to avoid it if Hudaibiya Paper Mill case was not based on facts.
He added that National Accountability Bureau (NAB) proved to be a dead organization and the court would have to intervene if the institutions were not working.
Speaking about disqualification of the Prime Minister, the Attorney General said the law states that disqualification reference is first sent to the speaker. He added that the court could intervene only if the speaker does not respond.
The hearing was adjourned till Thursday.