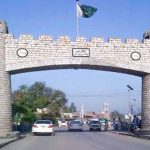 ISLAMABAD: The government Friday objected to the presence of of Chief Justice of Pakistan (CJP) Umar Ata Bandial in the five-member bench formed to hear petitions challenging the establishment of a judicial commission tasked with investigating audio leaks involving the judiciary.
The petitions were filled by various individuals, including Pakistan Tehreek-e-Insaf (PTI) Chairman Imran Khan, Muqtedir Akhtar Shabbir, Advocate Riaz Hanif, and Supreme Court Bar Association President Abid Shah Zubairi.
The bench, headed by CJP Bandial, consisted of Justice Ijaz Ul Ahsan, Justice Munib Akhtar, Justice Syed Hassan Azhar Rizvi, and Justice Shahid Waheed.
At the beginning of the hearing, Attorney General for Pakistan (AGP) Mansoor Usman Awan requested CJP Bandial to recuse himself from the bench, which elicited a strong reaction from the chief judge. "Please exclude the chief justice from this bench," AGP Awan said.
In response, CJP Bandial asked if he was being asked to leave the bench. "You should not interfere with our administrative authority."The chief judge further stated that while he respects Awan's request, the position of the chief justice is constitutional.
"I knew you would raise this objection. The judiciary is not subservient to the government. There is a separation of powers in the Constitution," he remarked. "The judiciary is the guardian of basic human rights. We fully respect the government," the chief justice said, addressing Awan.
CJP Bandial also expressed his dissatisfaction with the government's hasty decision to enact legislation regulating the powers of the chief justice. "How can the government manipulate judges for its own motives?" CJP Bandial asked the AGP.
The chief justice also questioned the formation of the judicial panel without his consultation. He mentioned that while consulting the chief justice is not mentioned in the Inquiry Commission Act of 1956, it is customary for the CJP to nominate a judge for the commission.
"Three similar notifications were previously withdrawn when the chief justice was not consulted. Five Supreme Court decisions also exist in this regard," the CJP said. The chief justice advised the AGP to advise the government to follow the Constitution in its true spirit.
Zubairi's counsel Shoaib Shaheen stated that phone tapping is an illegal act. "The inquiry commission's code does not specify who tapped the phone." Shaheen added that the government is giving the impression that the process of phone tapping is legal.
The court concluded the day's proceedings on the pleas and announced that it would issue a brief order later.