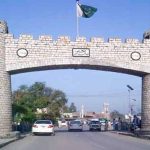 KARACHI: Margaret Adamson, High Commissioner of Australia to Pakistan, said the Australian cricket team would visit the country soon following the flawless conduct of Pakistan Super League (PSL) matches in Karachi.
Speaking at a breakfast event organized by Karachi Council of Foreign Relations, Adamson said the PSL has become a wonderfully successful event and "I hope that not only Australia's but cricket teams from other countries will also visit Pakistan soon."
The country's super league matches will play a major role in bringing international cricket back to Pakistan, the Australian envoy added.
Appreciating the efforts of Pakistan in promoting global peace, she said the country's contributions were praise worthy.
"We will continue to cooperate with Pakistan in fields of education, health, agriculture, dairy products, defence and anti-terrorism," she said.
The impeccable holding of the Pakistan's signature league in the metropolitan city of Karachi in March was lauded by various diplomats including, German Ambassador to Pakistan Martin Kobler. He congratulated Pakistani nation and impressively charged crowd and packed stadium after the closing ceremony of the series and said the PSL is a very healthy activity for the people and country.