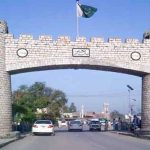 ISLAMABAD: The accountability court on Tuesday resumed hearing of the Avenfield reference against the Sharif family filed by National Accountability Bureau (NAB).
Judge Mohammad Bashir resumed the hearing after ex-prime minister Nawaz Sharif, his daughter Maryam Nawaz and son-in-law Capt. Retd Safdar appeared in the court.
During the hearing, Maryam Nawaz's lawyer Amjad Pervez concluded cross-examination of Panama Joint Investigation Team (JIT) head and Additional Director Federal Investigation Agency (FIA) Wajid Zia.
In the previous hearing, Nawaz Sharif and his daughter Maryam Nawaz were granted exemption from hearing for one day as they could not depart from Lahore due to bad weather.
It is pertinent to mention here that Wajid Zia is the last witness of NAB and after him NAB's investigation officer will record his statement before the accountability court.
Moreover, NAB filed another request in court today to submit the JIT's correspondence with the British government.
The court issued notices to the parties concerned and sought replies.
Later, the hearing of the Avenfield case was adjourned until April 20 whereas Zia was summoned to record his statement in the Al-Azizia Steel Mills reference on April 23.