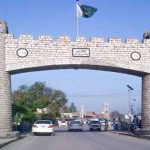 ISLAMABAD: The AVT Channels Network has achieved another milestone with the launching of 'Khyber Middle East TV' from its Dubai center in the United Arab Emirates (UAE).
The Khyber Middle East TV will mainly focus on fulfilling the demands of the overseas Pashtoon community across the world and especially Middle East as AVT Channels Network always strive to serve and promote Pashtoon culture.
Chief Operating Officer of the AVT Channels Network, Jawad Hamid Raja has formally launched the transmission of the Khyber Middle East TV from Dubai center.
People from all walks of life congratulated the AVT Channels Network for achieving the milestone and prayed for the further success of the network. The overseas Pashtoons termed the Khyber Middle East TV as their family channel and said that the AVT Channels Network has not only served as voice of the Pashtoon community; but, also played key role in the promotion of Pashtoon culture and language across the globe. They prayed for the success of the Khyber Middle East TV to serve the overseas Pashtoon community around the world.