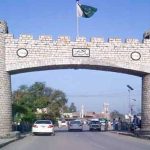 LAHORE: Sardar Ayaz Sadiq announced on Saturday to challenge Lahore High Court's (LHC) decision on nomination papers seeking declarations such as education, criminal background and dual nationality.
Speaking to media here, said that all the parties in the parliament had approved Election Reform Act.
He said that it was his responsibility to file a petition against the decision of the single bench.
Sadiq said that due to the ECP forming new forms can delay the elections, therefore, he will appeal that the said date should not be changed so elections can he held on time.
He further said that similar conspiracies against the Pakistan Muslim League-Nawaz (PML-N) even took place in 2002 but the conspirators would not be successful.