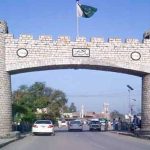 LAHORE: Ayesha Ahad, a lady who claims that she is the disowned wife of Pakistan Muslim League-Nawaz (PML-N) leader Hamza Shahbaz Sharif, did a press conference alongside Pakistan Tehreek-e-Insaf (PTI) leaders and demanded formation of a parliamentary committee to probe her allegations against her alleged husband.
Ayesha Ahad claimed that Hamza Shahbaz Sharif (MNA and son of CM Punjab Shahbaz Sharif) married her in 2010 and she fought a seven year long legal battle to get her and her daughter's rights but to no avail.
Flanked by PTI's candidate for NA-120 by-polls Yasmeen Rashid and recently inducted Firdous Ashiq Awan, Ayesha Ahad said that she was deeply grieved when the country's PM formed a parliamentary committee to launch a probe into former PTI leader Ayesha Gulalai's allegations but no committee or inquiry was set up for her allegations.
"I am not against this other woman (Ayesha Gulalai) but I am grieved as Nawaz Sharif and Shahbaz Sharif as a committee was formed on Gulalai's allegations but I, who is their daughter-in-law, was beaten by their party workers and no committee was formed, I approached judiciary but my cases are still pending," said Ayesha Ahad.
She added that when the PTI leader approached her she asked her as to why she is approaching her, she (PTI's Dr Yasmin Rashid) said someone from her (Ayesha Ahad) family contacted Ms Rashid.
She added that Hamza is no more honest or truthful as he lied to her that he has no wife, declaring that she will go to ECP against Hamza Shahbaz.
"I too have their messages, messages by a number of people from their family," claimed Ayesha.
She maintained that she was tortured by police and was forced to give a written statement saying she and Hamza aren't married.
Soon after Ayesha Ahad's presser, Imran Khan- who is about to face an inquiry after former party leader Ayesha Gulalai's allegations that he sent indecent text messages to her- said that Ayesha Ahad's case is the first test for the new PM.
"Will he set up parliamentary committee to investigate serious allegations leveled by Ayesha Ahad against PML-N MNA Hamza Shahbaz Sharif or remain a darbari of Sharifs and ignore allegations," said Imran Khan.
It is pertinent to mention here that the National Assembly on Friday called for constitution of a committee to carry out probe into the harassment allegations levelled by MNA Ayesha Gulalai against PTI chairman Imran Khan.
Ayesha Gulalai Wazir, an MNA who announced to leave PTI earlier this month, claimed in a presser and then in an interview that Imran Khan used to send "indecent messages" to her.
In the press conference, Ayesha Gulalai had said that one of her reasons to leave the party was that the party chief Imran Khan and his cronies send indecent text messages to female members while in her interview, she said that such messages shocked her but she decided to ignore them to concern on her duties as a lawmaker.
About the proof, Gualai maintained that she will only present the messages before a legal body.