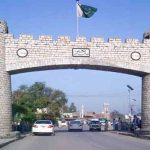 KARACHI: The Sindh High Court (SHC) on Monday has formed a two-member bench over contempt of court plea regarding excluding model girl Ayyan Ali's name from Exit Control List (ECL).
According to details, the bench will hear the case on February 8.
Earlier, Supreme Court (SC) had directed to exclude Ayyan Ali's name from ECL. The hearing of interior ministry's plea against SHC verdict was held by a three-member bench headed by Chief Justice Saqib Nisar.
SC while maintaining the verdict of SHC dismissed interior ministry's plea for the third time.
The Chief Justice inquired: "Ayyan's name has been included in ECL for the third time. The court should be told that while utilizing section-109, how many times the names of murderers have been put in ECL?"
Additional Attorney General replied that referee judge declared verdict of Ayyan's ECL case on January 19.
Ayyan Ali was arrested from Benazir International airport on March 14, 2015 for smuggling US $5 lac after which a case was registered against her.
After spending four months in Rawalpindi's Adiala jail and attending 13 hearings, she was granted bail in July.
However; her name was included in ECL after Customs Officer Ejaz Mehmood who was investigating the case was murdered.