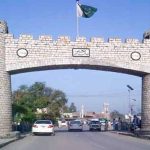 ISLAMABAD: Baba Haider Zaman, the man behind the Hazara province movement, passed away in Islamabad on Wednesday at the age of 82.
Baba Haider Zaman was admitted at a private hospital for a few days owing to protracted illness.
He was a strong proponent of a separate Hazara province and his movement for a separate province gained momentum after NWFP was renamed Khyber Pakhtunkhwa.
He served as a provincial minister, Abbottabad nazim and district council chairman. He will be laid to rest on Thursday at 2pm in Dewal village.