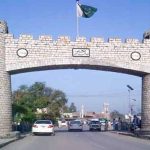 LAHRE: The national cricket team captain in all three formats Babar Azam will be honored with Pakistan's highest civilian honor 'Star of Excellence' on the occasion of Pakistan Day celebrations on March 23 for his outstanding contribution to Pakistan.
The 28-year-old Babar will be the youngest player to receive the honor who will be attending the ceremony on March 23.
Earlier on August 14 last year, the government of Pakistan had announced that Babar Azam would be conferred with the Star of Distinction and now the date of the ceremony has been confirmed.
Former Pakistan captain Sarfaraz Ahmed was the youngest Pakistani cricketer to receive the star award.
Whereas other former Pakistan cricket team captains have also received this award including Misbah-ul-Haq, Younis Khan and Shahid Afridi.
Moreover, Mohammad Yusuf, Saeed Ajmal, Javed Miandad and Inzamam ul Haq have also received this award for their outstanding achievements in sports.
It is pertinent to note that Babar Azam will not be part of the national team in the T20 series against Afghanistan starting from March 24. All-rounder Shadab Khan will take over the leadership duties of the team in his place.