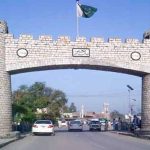 CHARSADDA: The administration of Bacha Khan University's Charsadda Campus on Thursday backtracked on its contentious decision to ban "coupling" of male and female students.
Through a notification issued on September 23, the varsity's assistant chief proctor announced that "coupling of male and female students is not allowed" and warned of "strick disciplinary action" if the directives were not followed.
The notification alluded to a "surge" in "undue/un-Islamic/uncultural relationships" and warned that students found violating the order would be fined and their parents would be notified.
"Hence therefore to avoid any untoward situations, no male and female student's correspondence should occur," read the notification.
However, the varsity's vice-chancellor, Professor Dr Saqlain Naqvi said that the notification had been withdrawn.
He said a departmental inquiry had been launched against the assistant chief proctor for issuing the circular without consulting senior administration officials.
This is the second such incident reported in Khyber Pakthunkhwa this month.
Last week, a district education officer in Peshawar issued a circular directing the heads of all government girls schools to ensure that women students wear a gown, chadar or a veil to protect themselves against harassment.
The circular was withdrawn by Khyber Pakhtunkhwa Chief Minister Mahmood Khan following widespread criticism.